Time to Plan 2012 CPR Training
January 1, 2012 by Allen James
Happy New Year! Now that 2011 is over, it is time to plan CPR training for 2012. To begin your planning process, please review our updated website. We feel you will find our new website easy to navigate and useful for scheduling. Please let us know your thoughts about the new site.
The year 2011 was a period of significant transition for the American Red Cross and EMS. New training standards had to be integrated into their programs, new materials printed, and, of course, new fees assigned to certifications. (Look at the website under "News" and call up "Program and Fee Changes", October 11, 2011). We have made every effort to keep our fees as low as possible. Review "Class Offerings" for class descriptions, fees, and class times. As you shop for the best price, do keep in mind that the quality of the training is the most important component to prepare yourselves and your team for medical emergencies.
We begin our training with how to think about an emergency and then we give you a toolbox of skills. We call it the "Process". The Process provides you with an operational structure that can keep you on track until the EMTs arrive. You, as the first responder, keep the ten minute survival window open until relieved by advanced training. As first responder, your part in this process is crucial; that is why good training is critical. We can provide that training. Remember - Life Matters.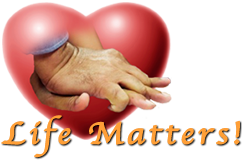 Back to Top     |     Back To News

CPR Training for Sonoma, Mendocino, Lake, Napa, and Marin Counties.